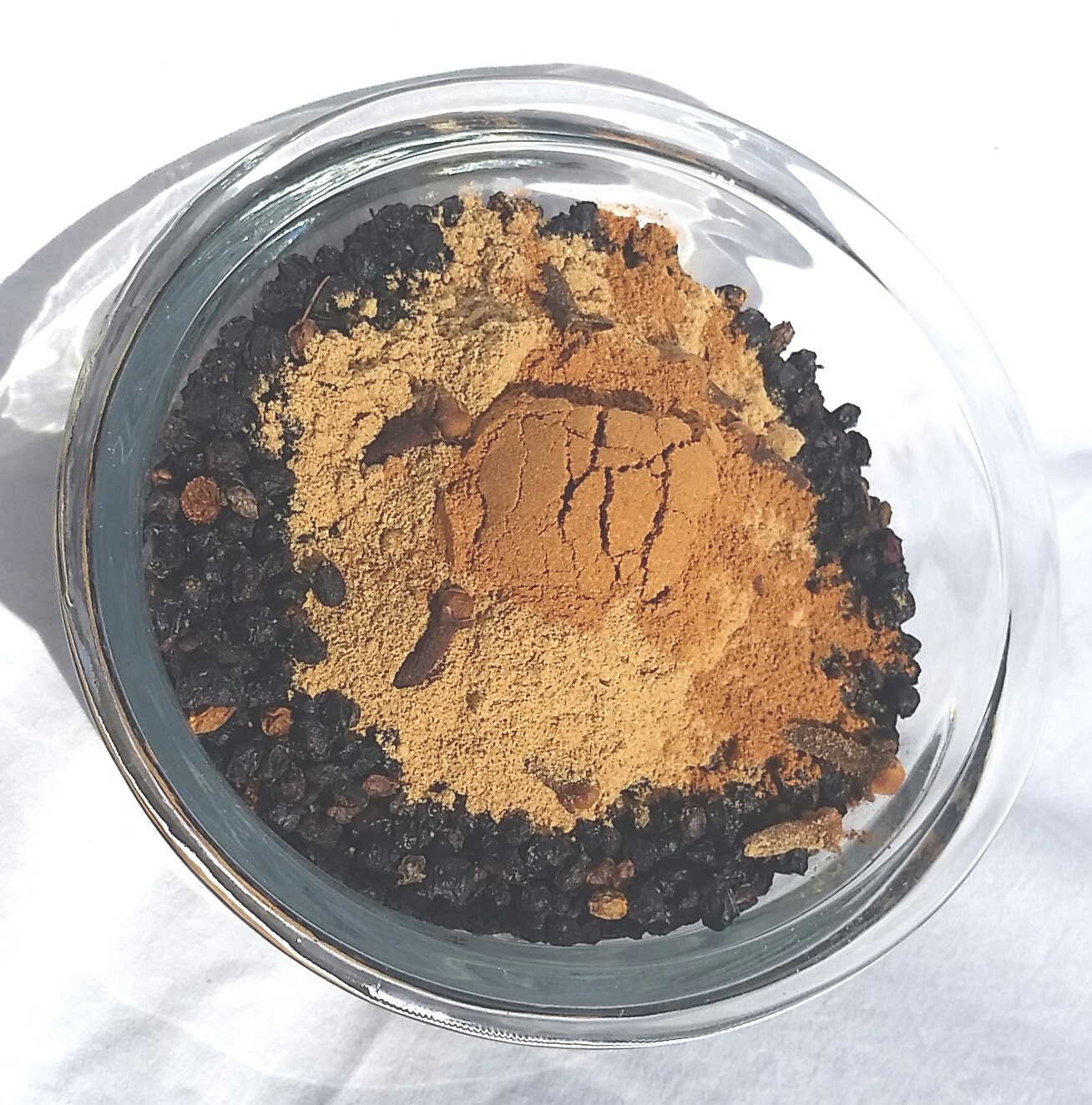 Elderberry Syrup Mix. All you need is 8 oz of Raw honey and this mix and tada! makes a great gift for cold and flu season
$9.29
Details
Due to depleted stock of elderberry due to recent flu, elderberry has gone up in price, we apologize for the price hike once the price comes back down and the stock is back to normal we will adjust our prices accordingly
Give the gift of good Health. Just follow the directions on the package. You only need water and 8 oz. of raw honey. Once the Elderberry package has cooled, add the honey and mix well store in the fridge. The mix contains o blend of whole elderberry, ginger, cinnamon, cloves
this syrup is thin, If you want it to be thicker you can add a 1/2 cup less water and cook a little longer until it gets a little thicker, this is the same consistency as you would buy at the store.

Elderberries in the form of elderberry syrup have been shown to boost immunity, decrease mucous production during colds and fight the flu.

Elderberries are a rich source of vitamins A and C, which are crucial in helping the body maintain optimal health. Plus, the bioflavonoids in elderberry syrup boost the body's immune system by increasing antioxidant levels and viruses that damage cell walls. A daily dose can assist you in preventing both acute and chronic disease.
Treats Upper Respiratory Infections
Fight your cold symptoms. Elderberry syrup makes colds and other upper respiratory symptoms more tolerable by reducing mucous secretions. Also, elderberries may fight swelling of the respiratory passages, which means less discomfort and trouble breathing and soothe a cough.

Homemade elderberry syrup! This will make over 35 oz. Store in the fridge and take daily for its immune boosting properties. Some sources recommend taking only during the week and not on the weekends to boost immunity.
Standard dose is ½ tsp to 1 tsp for kids and ½ Tbsp to 1 Tbsp for adults. If the flu does strike, take the normal dose every 2-3 hours instead of once a day until symptoms disappear.

We recommend that you consult with a qualified healthcare practitioner before using herbal products, particularly if you are pregnant, nursing, or on any medications.

We are not responsible for lost or stolen mail. We highly recommned purchasing .80 cents insurance if shipping first class to protect your purchase. With priority shipping it is automatically covered.
Payments
Credit cards or Paypal accepted.
Shipping from United States
Will ship within 3 days only to address posted to etsy. Unless it's a pre order.
I highly recommend getting shipping insurance. We DO NOT refund or replace lost or stolen or misplaced packages.. It is only $0.80 for protection of up to $100. This shop only makes refunds if the shop makes an error. Protect your purchase/s. If you order using priority you don't have to buy insurance it automatically comes with priority.

Items are shipped via USPS. I do not send packing slips, unless one is requested.
Returns & Exchanges
I don't accept returns, exchanges, or cancellations
But please contact me if you have any problems with your order.
Returns and exchange details
Your satisfaction is our first priority if we made a mistake. If it is a food product we can not accept returns but we are willing to meet you half way and refund your money less shipping but only with purchases of items smaller than 4 oz or less. We highly recommend starting with small quantities to make sure you like it.
Additional
We try to remember use our boxes and we recycle. We are a waste free company.