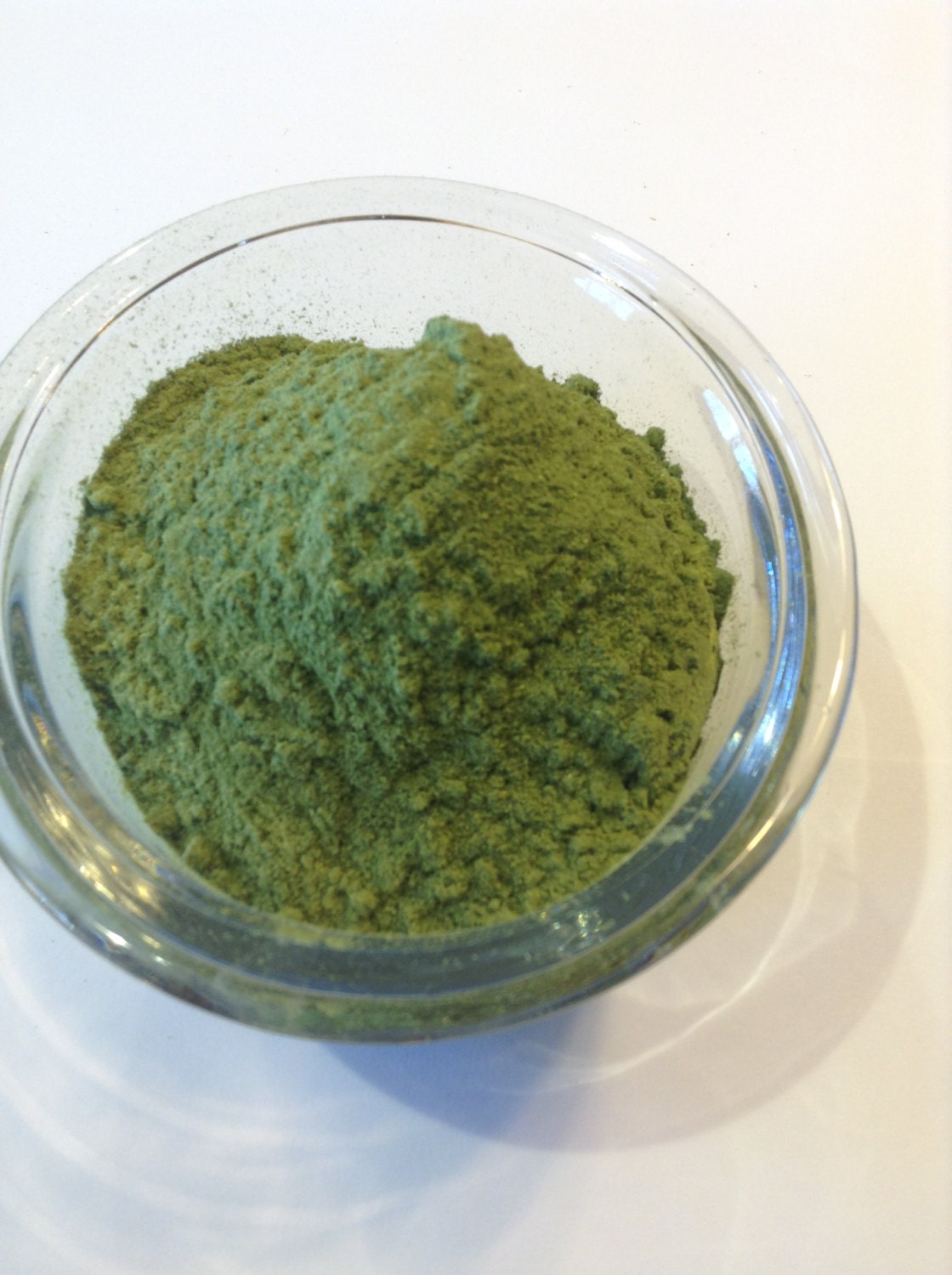 1/2-4 oz Alfalfa Powder organic Gluten Free, Vegan freindly,No sulfites no soy
$1.39
Details
If you order more than 1 they will be combined into 1 bag unless specified

Alfalfa contains high levels of the B complex vitamins plus A, C, D, E, K, and Biotin. It is also a rich source of protein, choline, inositol and PABA.
Alfalfa is high in fibre and a useful component in weight reduction diets, as its high nutritional value and ability to expand in the stomach reduces appetite. The high calcium intake also offers protection against fat accumulation and therefore enables fat to be used for energy.
For those who don't need to lose weight alfalfa is of benefit in aiding digestion.The leaf is harvested at its peak nutritional level and processed within sixty minutes of being cut. Nutrigreen Alfalfa leaf is grown in Australia's deep Mallee soils, renowned for their production of high quality cereal and vegetable crops and remoteness from industrial pollutants.
It has been recognised by naturopaths as a useful adjunct in the treatment of diabetes, jaundice and kidney complaints, anaemia and rheumatism. Alfalfa, being highly alkaline assists in the control of uric acid, which builds up around the joints, and can be a cause of arthritic pain & gout.
Alfalfa also works as a detoxifier, infection fighter and cleanser, and is particularly noted for its diuretic effect, helping to expel retained fluid from the body. It is good for colon disorders and helps detoxify the liver. Chinese healers in the 6th Century used Alfalfa to treat kidney stones and to relieve fluid retention and swelling.
Payments
Credit cards or Paypal accepted.
Shipping from United States
Will ship within 3 days only to address posted to etsy. Unless it's a pre order.
I highly recommend getting shipping insurance. We DO NOT refund or replace lost or stolen or misplaced packages.. It is only $0.80 for protection of up to $100. This shop only makes refunds if the shop makes an error. Protect your purchase/s. If you order using priority you don't have to buy insurance it automatically comes with priority.

Items are shipped via USPS. I do not send packing slips, unless one is requested.
Returns & Exchanges
I don't accept returns, exchanges, or cancellations
But please contact me if you have any problems with your order.
Returns and exchange details
Your satisfaction is our first priority if we made a mistake. If it is a food product we can not accept returns but we are willing to meet you half way and refund your money less shipping but only with purchases of items smaller than 4 oz or less. We highly recommend starting with small quantities to make sure you like it.
Additional
We try to remember use our boxes and we recycle. We are a waste free company.